Twilio has been at the forefront of the communications industry for a while now. At its recent developer conference, Signal, the company announced a plethora of new products, but perhaps the biggest announcement was Studio, a drag-and-drop visual coder for the entirety of Twilio's product line up.
In basic terms, Studio is a "visual code" application for Twilio. This makes building a product faster, due to the fact that non-developers, such as those in marketing and product design, can also work on the product. It also means a product, once built, can be iterated on faster, due to different teams of people being able to work on different areas.
Studio is part of Twilio's Engagement Cloud, a suite of APIs and products that build upon the core messaging and voice calling products. Ben Stein, senior director of product, described the Engagement Cloud's overall goal as "getting customers to production faster."
Included in this suite are products such as: TaskRouter, enabling call centers to connect a customer with the right person for the job; Notify, sending a notification over SMS, email, push, or Facebook Messenger via a chatbot; and Understand, a machine learning-powered text analyzer that can convert text to speech.
Once you've grasped the concept, Twilio Studio is very simple to use. Create a new "flow," essentially a workspace. Once created, you'll be presented with a widget with three options: Incoming Message, Incoming Call, REST API. Other widgets, say a "Send message" widget, can then be added from the library on the left by dragging and dropping. Anything can be added here, from a simple SMS message widget to a function widget, which needs to be coded in other parts of Twilio in order to work.
However, far and away the best thing about Twilio Studio is how quick it is to build a simple tool. I built a simple text message chatbot in minutes with my limited coding experience, and soon had a voice bot working too. It's very easy to get started, which is what makes everyone working on a product, directly or indirectly, able to use it.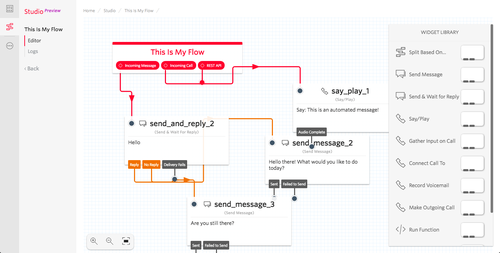 That said, it's not the be all and end all. While it's easy to see Studio as "the future of coding" or "visual coding" -- I did at first -- it's not really that at all. It's more "visual Twilio," with the whole team involved, not just developers. "Studio is a way of empowering the whole team, and not just the developers," Stein told me. Before using Studio, he said, teams would have to funnel everything back through the developers, creating a bottleneck that stopped progress quickly being made. In a startup, supposed to be small and nimble, this can be a significant inhibitor to progress, which is where the idea for Studio, and the whole Engagement Cloud, came about, Stein said.
Don't think developers are a dying breed, however -- in fact, it's quite the opposite, as problems become harder and harder to solve, with highly theoretical applications such as machine learning and neural networks increasingly becoming key to a product's success. This what Stein sees developers doing -- working on and fixing these issues -- while others in the team work on the product through Studio. This will likely make many developers happy; those I spoke to at Signal thought Studio looked cool but didn't want to use it to actively build a product, preferring to have fine-grained control over what they're doing -- i.e. using a text editor to code.
That seems to be exactly what Twilio is aiming at with Studio -- bringing a team closer together by enabling everyone to work and build a product. That, in turn, should decrease production time and subsequently increase user numbers and, hopefully, revenue, as a team will be able to push updates out faster without the bottleneck of going through the developers. Without the need to be adding in new copy or updating the design, the developers can work on problem-solving and technical issues. It could be a win-win for everyone.
Twilio Studio is currently in preview, but you can sign up for early access here. For the majority it's not going to be life-changing, but it might just be team-changing, which is exactly what Twilio wants.
— Phil Oakley, Site Editor, TechX365