Nokia Kills OZO 360-Degree VR Camera, Cuts 310 Jobs

Virtual reality isn't just about the head-mounted displays from Oculus and HTC. It also involves 360-degree cameras that take images from every angle, stitching them together digitally. This is what Nokia's OZO camera did, except now it doesn't, as Nokia has announced it is to pull out of the VR market and kill the OZO project.
Perhaps more importantly, this means Nokia will be cutting 310 jobs, preferring to focus its energy on the digital health market and its patent licensing business, which is healthy and profitable. It's a sad state of affairs for the Finnish tech company, as the OZO really looked like it was onto something: the primary use was creating VR content for films and video games, although it had also been used in the medical market, namely by Helsinki University Hospital, to livestream operations to surgeons around the world. (See Nokia Livestreams Neurosurgery in Mixed Reality Using OZO Live.)
Sony Pictures was a core OZO customer, using it to stream live VR videos directly to its customers. Nokia says it will continue to support and maintain its current customer base for the OZO, although what that means in practice isn't clear. What is clear, though, is that development on both the hardware and software will halt. It's a shame for the fledging VR market, but industry heavyweights Oculus and HTC are continuing to invest in products, and with Microsoft entering the arena with its new Mixed Reality headsets, the industry is poised to grow in the next few years.
— Phil Oakley, Site Editor, TechX365
All resources
Trak Ellis-Hill, Executive Creative Director, MOFILM, 6/12/2018
Is it possible to have a full-time job in tech and have children?
Dr Adrian Bradley, intellectual property expert, 6/4/2018
Dr Adrian Bradley argues that how business put together an Intellectual property strategy could cause the success of failure of an R&D project.
Andrew Mackenzie, Partner, Cleveland Scott York, 6/4/2018
The government recently released a new strategy for IP in the UK - partner at Cleveland Scott York Andrew Mackenzie takes a look at what's new.
Aoife Geary, Content Editor, Jobbio, 5/23/2018
Networking might be a pain, but do it well and it can put you on the fast track to tech success.
Connie Reinholdsson, Junior Software Engineer, comparethemarket.com, 5/23/2018
A junior software engineer at Compare the Market recounts her first month and what she's learned.
+rehabstudio, 6/19/2017
It's going to become increasingly hard for brands to stay relevant by only selling their physical goods without also creating useful services that consumers invite into their lives.
All Sponsor Blogs
Industrial IoT Usage & Maturity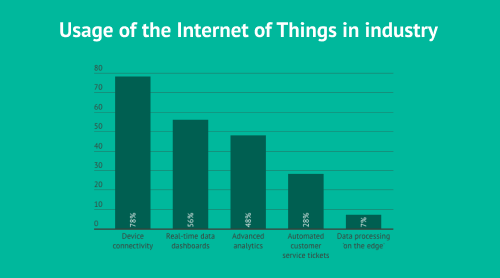 Infographics archive