Secretive tech startup Magic Leap revealed its headset late last year, but we still don't know much about how it works or what it's like to wear it.
CEO Rony Abovitz was on stage at Recode's Code Media conference along with National Basketball Association Commissioner Adam Silver, where he revealed some fascinating nuggets of information, including the claim that it could replace "your phones, your televisions, your laptops, your tablets" in the future.
Also, don't call it "augmented reality" -- that's a pop culture term according to Abovitz. He prefers the name "spacial computing." (See Investment Into AR/VR Totalled Over $3B in 2017.)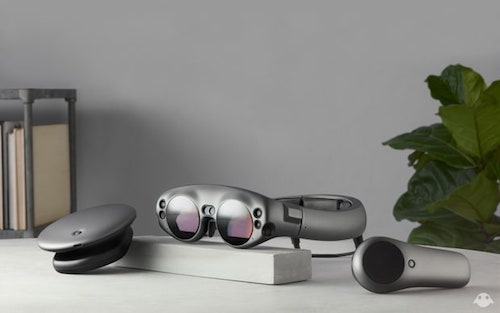 How, erm, "spacial computing" works in practice still isn't really clear. Magic Leap hasn't shared any "point of view" videos from the headset yet so all we can do is take Abovitz's word for it. In the interview, he says that "you still see the real world, but then you have digital things not superimposed on it, but integrated into it". Discussing watching sports content, such as NBA games -- the NBA has partnered with Magic Leap -- Abovitz said "you might have a 60-inch real TV, now you have five digital TVs that just appeared." This, Abovitz and Silver said, would let you watch an NBA game from lots of different angles, or even have "part of the court in your front room", according to Abovitz.
The Magic Leap One headset uses light field technology -- when two images of the same object are from slightly different angles -- to insert something into your field of view. Light field technology isn't new; it was first proposed in 1908 and camera manufacturer Lytro has been using it for its own high-end cameras for the past decade or so, but this is a different application of the technology, enabling it to place things in your direct vision. Abovitz references the visual cortex and the neurological sensors in the brain that turns light we see into things our brains can understand and perceive; it appears that this is the core of the Magic Leap technology.

Abovitz also says Magic Leap is likely to have different price tiers for various versions of the headset, from "mass market" to "pro-sumer" to "hyper-pro." It seems as though the mass market product will be priced similar to a high-end phone. Check out Recode for the full 40 minute discussion, which includes a cameo from former basketball star Shaquille O'Neal.
— Phil Oakley, Site Editor, TechX365