Cyberattacks cost an increasing amount of money, which is why the cybersecurity sector is investing so much in fighting the aggressors. A new service, SmilePass, is using biometric authentication -- in the form of a selfie -- to combat the reported £30 billion loss to British business from cybersecurity breaches.
SmilePass's technology uses complex face-matching technology, powered by deep learning, to authenticate users of apps and services. SmilePass is calling this "biometric authentication as a service," and while that's a bit of a mouthful, it's pretty much what it is -- customers can build the service into apps or products and use SmilePass's technology to protect themselves and their users from being hacked and losing confidential or private data.
This type of biometric authentication is likely to become a lot more prevalent in the next few years, with Apple using 'face unlock' technology on the iPhone X and virtually all the big mobile players using increasingly advanced fingerprint scanners on phones and tablets. SmilePass, for its part, expects the biometrics-as-a-service sector to increase in value by 30% year-on-year until 2022, meaning there is almost certainly a lot more innovation to come in this area.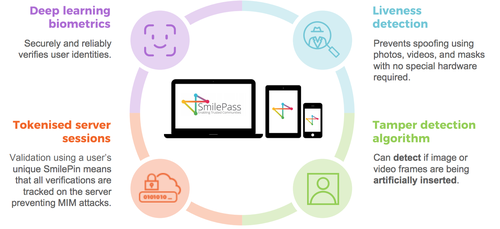 SmilePass is split into three tiers, each aimed at various organizations needing slight differently authentication services:
SmileCheck -- fast and low-cost for geo-tracking and authentication. Perfect for frequent, ongoing confirmation of presence, such as ticketing and "checking in."
SmileSafe -- the mid-level option, ideal for one-time authentication such as an ID check or financial transaction approvals.
SmileSafe+ -- the premium, top-of-the-range option. Uses deep learning biometrics supplemented with anti-spoofing tech and a secure passport-based registration process. Best for verifications and transactions where security is of the utmost importance, such as transactions where risk of fraud is high.
Grant Crow, CEO of SmilePass, explained: "As we leave the analogue world behind, cybercrime will become one of the greatest threats of our time. For UK businesses alone, cybercrime is a £30 billion threat that is growing by the day. After years spent understanding the potential, and current weaknesses, of biometric authentication, we're confident that SmilePass is a robust solution equipped to protect businesses and their customers from social engineering and fraud -- and help biometric security reach its full potential in the process."
— Phil Oakley, Site Editor, TechX365