Sharing location data is, for consumers, a very stressful thing, says a report from HERE Technologies, which found that sharing personal location data with companies causes stress in more than three fourths of people in one form or another.
Users are much happier to share data, however, if they know what it's going to be used for and whether that data is safe and secure. Sixty-eight percent of the total of 8,073 people surveyed globally said that they would be more willing to share "if I knew whether and how data is protected," while 67% said they would share "if I knew why location data is needed."
Regarding location data, possibly the most sensitive of all the data collected, 80% of people feel out of control when an app changes location data-sharing settings without the user's knowledge, while 77% are worried about burglaries and stalking and 76% are stressed by it. This increases in consumers who are tech savvy, showing that knowing more about companies which collect our data, especially location data, causes higher worry.
What does this mean for companies and developers? It means that they need to be a lot more transparent about the way they collect data and how they use it -- especially location data. Three-fourths of consumers are not fully aware of what happens to their data once they've agreed to share it. That's an incredibly large number when you consider the millions, even billions, of data points the likes of Google and Amazon collect on each product every day. It shows that these tech giants must do more to explain, clearly and explicitly, how data is used to consumers.
Most consumers do know what value their location data holds, however, and are happy to share it with an app if it means the app is a free service. One participant from Germany said "I like to provide my data because otherwise I would pay for the service," while another said, "In exchange for my location data, I would like discounts, vouchers, recommendations or services like navigation or location details on social media platforms." (See 'Data Is the New Oil' – Red Sift Founder Rahul Powar.)
Interestingly, however, despite high concern and stress among users, most do not check their settings pro-actively and limit apps which are collecting too much data -- indeed, only 12% of non-tech savvy users do this, while it increases to 34% among those who are tech savvy. This implies that the average user of an app on a smartphone does not know how to limit the data apps collect, settings of which are usually buried in the iOS and Android operating systems.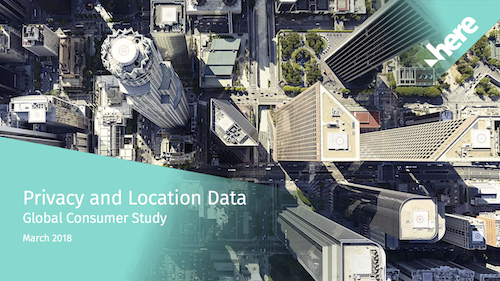 Click the image above to download the report.
This need for increased transparency, of course, means that data collectors and other apps need to open up to consumers about how they use data that is collected and why they need it -- something not many are going to be keen on doing. With the European Union's GDPR regulation coming into force in May, the way companies use and store data is incredibly important and will only get more important as time goes on.
Technology such as machine learning uses data to "know" the user, with products such as Google Assistant or Amazon's Echo using Internet history, location data, buying habits, app usage and many other data points to inform the user about contextual information. (See 68% of Consumers Use Machine Learning Without Realizing It – Deloitte.)
There's a lot more information, analysis and insight in the report, which you can access by clicking the image above.