Technology is transforming the workplace and workplace culture. We spoke to Richard Burton, head of Innovation Lab at EDF Energy, about the changes he has noticed and how we can build the workplace and work culture of the future.
How is the rise in remote working changing work culture?
Remote working impacts the dynamic within the team. Reduced physical contact between team members and managers means that managers need to think about how to create a sense of belonging to the team. This can lead to a clearer framework of communications, updates and get-togethers. While the framework itself can be more defined as a result of greater thought upfront, there is then a greater degree of flexibility within the structure allowing the individual greater freedom and discretion over time and place of work. On the other hand team members are being asked to exercise more self-discipline in the way they manage themselves. Importantly this implies a greater degree of trust between employer and worker. Organizations are now placing more emphasis on defining a desirable set of behaviors and monitoring them within the assessment of performance.
How can we build work environments that are both flexible and collaborative?
The best work environments in this respect are based on minimal pre-allocation of space, combined with carefully designed "activity-based zones." The removal of desk allocation gives a more democratic feel and encourages movement around the working environment. This suits the trend of knowledge workers being engaged increasingly in cross-functional project-based work. Equally this applies outside the sphere of "knowledge work." For example, I planned a change of structure of the environment within a nuclear power station to enable different engineering teams to more easily interact, to the benefit of working relationships and collaboration. Another aspect is to ensure teams have easy access to the right tools when they need them in order to get the work done in a collaborative manner.
Do young people entering the workforce now have different expectations around work culture than previous generations?
Yes, there is considerable evidence that millennials entering the workforce consider working culture to a greater extent than previous generations. They have the benefit of greater access to information about a potential employer which can put themselves in a good position to make the right move. Top requirements include fairness, including equal pay for the same work, regardless of gender, background or individual differences. However it is not necessarily the case that millennials want to work remotely. Particularly in their first job, young recruits want to experience the working environment, understand what is expected of them and have the chance to learn from their more experienced colleagues.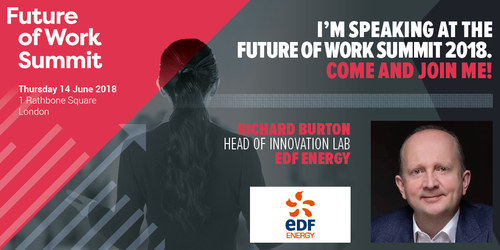 What are your predictions for work culture in 2030?
Some aspects that we think of now as innovations will have become "business as usual," from remote working and the use of collaboration tools, to the removal of allocated desks and the creation of activity-based working environments. Equally we will see jobs and careers that are more varied, with the growth of project working and more flexibility around the time of work in addition to the location of work. This should be encouraged by employers and regulators, partly in order to give greater job satisfaction as well as creating opportunities for parents of young children to continue careers while being able to devote the necessary time and energy to their families.
What will be your key message at the Future of Work Summit 2018 and what are you hoping to learn?
My key message is that innovation in new ways of working is genuinely beneficial to all stakeholders, from employer to employee and from shareholders to customers. The reason for this is that while the change requires investment, this is in large part a one-off while the significant efficiency savings are ongoing. The results feed into greater motivation and satisfaction of staff, the strength of the employer brand and ultimately to customers receiving improved service delivery. I am hoping to learn, as always, from people's diverse experiences and case studies -- I'm hoping to come away with a deeper understanding and a few ideas of things to put into practice.

Richard Burton will be speaking in a panel discussion on "Is the techno generation avoiding facetime?" at the inaugural Future of Work Summit on June 14 at London Tech Week 2018.
— Gabriella Jeakins, Digital Content Marketer, London Tech Week