In his Harvard Business Review article Companies Are Now Making Innovation Everyone's Job, Michael Schrage spoke about how "enterprise innovation conversations seem to be shifting from the 'how' to the 'who," echoing Accenture's Technology Vision 2016, which reports that "leaders are placing a premium on candidates whom they believe will evolve with their business."
But what does an employee who will help your company "evolve" look like? What attributes should he or she possess? I asked several innovation thought leaders, including two Chief Innovation Officers and an Innovation Forum President, to tell me exactly what qualities they were looking for in their next new hire.
Matthias Lenssen, Co-Founder & Creative Director, Innovation Radicals, @PixPreneur
"We believe in the mastery, autonomy and purpose approach. That is why we are looking for open-minded people with a strong intrinsic need for personal development. They need to identify themselves with our purpose and furthermore they should be able to work autonomously."
James Codling, Co-Founder & Managing Director, Venture Founders, @JamesCodling
"Working with scale-up businesses, one thing I look at, before opening the company to our network of investors, is the team driving the company's growth. The hires an evolving business makes have a massive impact on the company's success, so I always want to ensure there is a strong team in place. "Those looking to hire to grow and evolve their business should ensure that candidate is the best fit for the job, with a passion for the industry. Wait for the smartest and brightest person and resist the temptation to hire a 'quick fix' to a problem. By doing so you will be able to rely on them to take control of their area of expertise and draw on their experience to deliver against targets. Their passion will mean that they fully understand and buy in to your business. Having someone who is fully behind what your company does will not only help you achieve your business plan in terms of results, but they will inspire the wider team around them to create a virtuous circle. It's important to remember that the best talent tends to attract the best talent, helping you build the best team possible."
Mike D. Kail, Chief Innovation Officer, Cybric, @mdkail
"Successful hiring for continual evolution really comes down to finding individuals who are great at aggregating a myriad of different inputs, combine what is relevant to produce differing outputs, and then finding the output that results solving the current initiative."
Matt Shields, Founder, Virtus Ventures, Chief Innovation Officer, No Small Ideas, @NoSmallIdea
"I would say that one of the most important qualities to possess today across many different skillsets is empathy. Our company, daily, is tasked with making a digital or technology experience more engaging, fun and most importantly useful. Our best people are able to tap into the emotion of the user and design the interaction around that feeling. As we progress into some of the evolving technologies like VR/AR, and especially mixed reality, we will lose even more of the physical human interaction, but people are people and will always want to feel that the service they are receiving has been tailored to their needs. You cannot create that tailored experience without being able to empathize with the user. "Obviously, my focus has been on technology. However, when a candidate possesses any typical skill set that a company is looking for -- and they also have the ability to put themselves in the shoes of their end user -- more times than not you're going to have a great employee."
Rhona Togher, Finalist Women Startup Challenge Europe, Co-Founder & CEO Restored Hearing, @rhonatogher
"I believe the most important quality a new hire should have is passion. Passion isn't something you can teach someone to have – it's the most valuable asset in driving a business forward."
Maria Chatzou, Ph. D, President, Innovation Forum Barcelona, @CH_maria_CH
"Being the founder and President of Innovation Forum, for over three years now, I can tell you that what makes an absolute difference in helping a company or organization evolve and innovate is hiring people that are 'doers' and empowering them to do things. For me to successfully lead, is to not interfere with the work of competent people! From my experience, if someone is a doer, he/she will learn and overcome everything needed to achieve the desirable outcomes. They simply don't stop! Where it becomes tricky is that a doer personality more often than not searches for a meaning in what he/she does, which means a company should always inspire him/her. They also tend to not like very structured and hierarchical companies."
Is your business ready to evolve?
It's interesting that of all the hard and soft skills to choose from in a potential new job candidate, Innovation Radicals' Matthias Lenssen stressed autonomy in his answer, as did Dr. Chatzou. An autonomous employee is an independent thinker who's very self-motivated to be a doer. He or she sounds like the ideal team member, right? But autonomy, Dr. Chatzou reminds us, is a two-way street, as a 'doer personality' will want inspiration from a company, not hierarchy or structure. In this recent Forbes article, The Real Reason Your Employees Can't Innovate, Liz Powers details the myriad obstacles that organizations are placing in front of any employee who might have the inclination or skill to innovate. Powers instructs: "You will never get out-of-the-box thinking from people who know that in your company, new ideas get shot down unless they come from designated 'idea people'."
Management and human resources professionals take note -- you might be surprised to discover that your company's next big innovator is already on your payroll.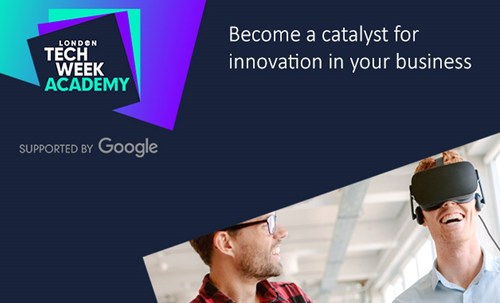 Meet and learn from innovation experts who have pioneered and succeeded inside their companies -- join us as at the Google/London Tech Week Mini-MBA. Whether you work in marketing, development, innovation, finance or sales, the Mini MBA program will set you up with the tools you need to transform your ideas into reality and trigger cultural change.
— Leah Kinthaert, Digital Transformation Lead, Informa