In Forbes, Tendayi Viki defines innovation as "the combination of creative ideas with sustainably profitable business models," adding that "cool ideas" alone don't cut it. Profit is part and parcel of innovation: "If you have one part and not the other you don't have innovation."
I reached out to several industry innovators and innovation advisors to find out just how companies are using innovation and disruption to succeed and achieve those profitable business models. Not surprisingly, Viki's central tenet permeated many of their answers: As Peter Sayburn of Market Gravity confirms, "Innovation isn't just about ideas. It's about making stuff happen."
Catharina van Delden, Co-Founder & CEO of Innovation Infrastructure Software Company Innosabi, @CatharinaVD
The real forerunners see innovation as more than the means to an end. The key to success lies in their ecosystem: By transforming innovation processes into collaborative networks with employees, customers, suppliers, or the general public, innovation itself automatically becomes a shared pursuit and is imprinted long term in their company culture.
Laetitia Cailleteau, Managing Director and UKI Emerging Tech Lead, Accenture, @LCailleteau
Meaningful innovation starts with 'why,' not 'what.' Put people first by finding and solving genuine real world challenges. Doing thorough research and consumer analysis, plus looking at 'adjacent' industries, helps ensure what you're doing is relevant. Customers compare their experiences across industries, from banks to e-commerce -- they know what's possible and always expect more. Use those expectations to identify what you need to do in order to solve their problem. Then get to market fast and gather continuous feedback. It's been said many times that things change quickly, because it's true. So once you've caught the wave, ride it!
Sally Eaves, CTO, Mindfit; Chief Innovation Officer, Intrapreneur International; Management Board, TeamBlockchain @sallyeaves
In a context of rapid social, political and technological change, high-performing companies are those built on cultures of continual innovation, creativity and intrapreneurial dexterity. To achieve and, moreover, sustain success requires increasingly open and agile methods of working, including techniques such as visual and design thinking, storytelling and hackathons. It necessitates the recruitment, retention and nurturing of employees that are comfortable with uncertainty, learn by doing, actively embrace change and so evolve alongside an organisation. This is underpinned by the capacity to scan, experiment, exploit and then embed emergent technological capabilities that make sense to a specific business – or, in other words, to avoid the hype and identify what works for you.
Cristene Gonzalez-Wertz, Electronics Research Director, IBM Institute for Business Value, @hermione1
While many industries are facing specific challenges, I think four are universal:
We're creating 25 quintillion bytes of data each day
Global economic drivers call for robotics and more automation
Analytics alone can't solve the challenges -- we need AI
Digitization is not a big thing – it's THE big thing
The most successful companies also realize they don't have all the tools they need to exist in the new world order -- they need an ecosystem of partners that help them. That's across the supply chain – including the manufacture, distribution or management of products and customers. They're relentlessly focused on data, which in smart companies is respected and treated like the intellectual property it is. They're creating surrounding services that extend their reach. Leveraging and sharing insights across customers, and with customers, is de rigeur for modern innovation leaders. Assembled insights allow smarter corporate and customer decisions. Similarly, services and insights change how consumers "interact" with products. I don't need soup, I need a meal. I don't need a car, I need transportation. Transitioning to delivering needs via "pay by the use" is a strong response to the challenges.
Innovation leaders are data companies regardless of industry, giving rise to 'marketplaces' such as Amazon (which, I contend, is a modern model I've nicknamed 'the great grand bazaar'). TenCent, Huawei, IBM, ABB, Maersk, Cisco, Comcast, Foxconn, Jabil, Kone, Apple and even Microsoft are looking hard at data as a key strategic enabler. Companies that not only understand but master the value of the data can not only do more, their ecosystems can do more. For instance, last week I received an offer from UnderArmor for logging into MyFitnessPal for 30 consecutive days. When you can join someone on their journey and demonstrate you share and reward what they're doing, that's the power of treating those four top challenges as opportunity.
Paul Hobcraft, Founder, Agility Innovation, @Paul4innovating
My first thought here was, 'Are we misusing innovation or disruption to grow?'
Each is about spotting opportunity, it is all about taking risk and experimenting and then exploring this. We are looking for the things that are not working, questioning the underlying process of the 'job' the customer is trying to get done. If we can recognize that the customers' needs are not being satisfied, we have this opportunity. We then choose to 'disrupt' others as we see a new unique combination or we innovate within a certain safe set of parameters. Do we push hard enough to innovate? Can we disrupt and offer remarkable new products or services that blow away the customer, as it surpasses their present jobs to be done and takes them to jobs they have always wanted to do? Currently that is often what is missing in successful companies -- they don't spend enough time pushing the boundaries and are simply happy to grow in incremental ways. That's why we see so many startups just focus on the disruption opportunity and use innovation to get them there.
Tom De Ruyck, Managing Partner and Head of Insights Activation, Insites Consulting, Professor, IÉSEG, @tomderuyck
If organizations want to survive, they need to reinvent or even disrupt their own existing business model, just at the moment they are making most money from it. Why? First, there is, at that moment, money to invest in the future. Second, you know that a consumer trend or new technology will eventually be used by others to disrupt your profitable business model. So, try to become your own disruptor!
Michael Wax, Co-Founder & CCO, FreightHub, @themikewax
Disruption is a process that displaces a current product or service and creates something new that is more efficient. Only the most successful organizations manage to take the hard decision to build services or products that may eventually cannibalize their core business. Only those that take the risk will manage to survive, preventing outside disruption from challenging their competitive position. These progressive companies will spend their money on automating processes and increasing customer satisfaction.
Pete Sayburn, CEO, Market Gravity, @Pete_Sayburn_MG
Companies that are truly using innovation to grow are finding ways to build a culture of innovation, and a way of working that nurtures and fosters it. This culture is weaved through the entire organisation, and not just through a single team or an innovation programme.
These companies are encouraging inquisitiveness and change, and are incentivising it correctly. They also see failure as an integral part of the innovation process and don't penalise it -- instead they learn from it.
By using the right tools to identify opportunities, they pursue them with gusto and clout. It's also about constantly listening to customers and using their needs as inspiration for the art of innovation. Finally -- and most importantly -- innovation isn't just about ideas: It's about making stuff happen that has a positive impact on customers and a commercial impact on the business.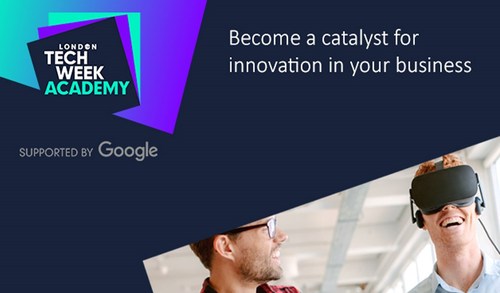 Pete Sayburn will lead and facilitate the innovation curriculum this June at the Google/London Tech Week 5-Day Innovation Mini-MBA, which will empower participants to take corporate innovation frameworks and capabilities back to their organisations. Whether you work in marketing, development, innovation, finance or sales, the London Tech Week 5-Day Innovation Mini-MBA program will set you up with the tools you need to transform your ideas into reality and trigger cultural change.
— Leah Kinthaert, Digital Transformation Lead, Informa