Member Since: July 10, 2018
After moving around Australia and exploring parts of SE Asia, such as Laos and Thailand, Regan Udy has settled back into his home town of Freemantle, Perth, and now owns and manages Supercheap Storage Perth North, offering a professional and flexible mobile storing service at affordable rates.
Aside from being an accomplished accountant, he previously worked in the field services department for Telstra; where he collected field data, considered himself and his colleagues a pesky part of the local wildlife and also bent geological drills in the great Australian outdoors.
His 'one man, one life' philosophy means he still continues his shenanigans with his wife and their like-minded, fun-loving friends; be it dingy racing down the rapids, skydiving, participating in a marathon or making fun of himself. When the day is done, you can find Regan enjoying a good soccer game, showing off his skills in French, chasing kangaroos, questioning hedgehogs and pinching snakes.
Phil Oakley, Site Editor, TechX365, 7/16/2018
The UK regained its crown as Europe's VC investment leader during Q2, but the value of investments is in decline as Brexit remains a concern.
Phil Oakley, Site Editor, TechX365, 7/13/2018
Data is precious, both for consumers and companies, and more must be done to protect and use it beneficially, said a Tech for Good panel at WeWork.
Phil Oakley, Site Editor, TechX365, 7/12/2018
Emma helps millennials manage their money by interacting with a traditional high street bank account.
Phil Oakley, Site Editor, TechX365, 7/11/2018
Monzo has been on a charge recently, with 770,000 users now on its books.
Phil Oakley, Site Editor, TechX365, 7/10/2018
Matt Hancock, the former digital secretary, is now Health Secretary.
All resources
Thursday, May 24, 2018
12 pm London / 7 am NY

Tech is transforming the way we live, travel and do business. Industry leaders will discuss the challenges and opportunities we're seeing as our cities become increasingly connected.
Aoife Geary, Content Editor, Jobbio, 6/13/2018
Why is London's startup scene the best in the world, bettering Silicon Valley, New York City, Tel Aviv and Beijing? Aoife Geary from Jobbio explains.
Farah Cuyvers, 6/13/2018
The global startup ecosystem is booming right now.
Joćo Fernandes, Founder, Buzzstreets, 6/13/2018
Indoor navigation is going to completely change our shopping centres and the entire retail experience.
Neil Murray, co-founder and CTO, Mimecast, 6/12/2018
How can we secure London's tech talent for future generations to benefit from?
Trak Ellis-Hill, Executive Creative Director, MOFILM, 6/12/2018
Is it possible to have a full-time job in tech and have children?
Sponsored Blogs, 6/12/2018
The Quintessence AM37 lets you try out the same boat James Bond would use in a full VR experience.
All Sponsor Blogs
Industrial IoT Usage & Maturity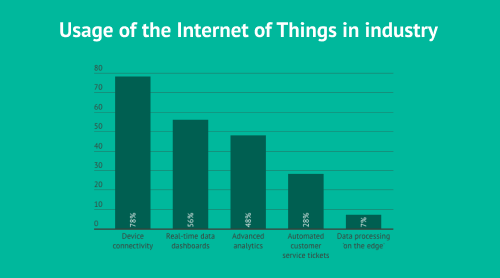 Infographics archive